I'm way behind on posting Out of the Blogosphere author tours so today you're getting three new books to sample for the price of well, none! Woot! Sooo lucky you are!!



VISIONS OF HEAT by Nalini Singh
Berkley Sensation / March 6, 2007
Go deeper into the world of the Psy and the changelings, where a gifted woman sees passion in her future-a passion that is absolutely forbidden by her kind...
Used to cold silence, Faith NightStar is suddenly being tormented by dark visions of blood and murder. A bad sign for anyone, but worse for Faith, an F-Psy with the highly sought after ability to predict the future. Then the visions show her something even more dangerous-aching need...exquisite pleasure. But so powerful is her sight, so fragile the state of her mind, that the very emotions she yearns to embrace could be the end of her.
Changeling Vaughn D'Angelo can take either man or jaguar form, but it is his animal side that is overwhelmingly drawn to Faith. The jaguar's instinct is to claim this woman it finds so utterly fascinating and the man has no argument. But while Vaughn craves sensation and hungers to pleasure Faith in every way, desire is a danger that could snap the last threads of her sanity. And there are Psy who need Faith's sight for their own purposes. They must keep her silenced-and keep her from Vaughn...
Check out an
excerpt
.
--------
NEW MOON by Rebecca York
Berkley Sensation; March 6, 2007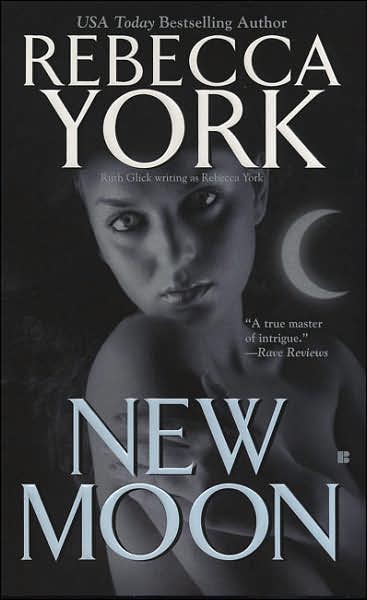 It's in one man's true nature to remain by the side of the woman he loves, rather than live without her in his own universe...
Landscape architect Logan Marshall is out for a jog—in his werewolf form—when a trap catches his paw. As it saps his strength, he is saved by another werewolf, who—to Logan's amazement—is female.
Female werewolves aren't supposed to exist. But Rinna is a shapeshifter from another dimension who's traveled through a portal to this world. And the trap that ensnared Logan was set by her former captor, and meant for her...
But as soon as Rinna and Logan touch, an electrifying bond forms between them. Unable to resist his desire for Rinna, in all her many forms, Logan will have to earn her trust, and travel through both dimensions to save her—and earth—from the wrath of her enemy...
Read an
excerpt here.
------
SIGHT UNSEEN by Samantha Graves
Warner Books; April 1 2007

Raven Callahan doesn't do it for the money. She does it for the thrills. As a consultant for API, an art recover company, she gets to steal—legally. But when her colleague is kidnapped during an assignment, Raven is forced to steal a priceless master painting to save his life.
David "Dax" Maddox was the perfect street cop—until a botched burglary raid cost his partner his life and Dax his ability to see color. Now, with his world gray, Dax has only one mission: to take down the murderer. And he'll use anyone—even a sexy thief with questionable ethics—to get justice.
Soon Dax and Raven are forced together as pawns in a madman's scheme. From the heart of Cuba to the New York art world, they find themselves in a race against time to stop the ultimate revenge.
Read an excerpt
here.